Spotlight on Legacy: Eli Woodard
"Spotlight on Legacy" allows us to showcase one of our team members' hard work and dedication to Team Legacy. This spotlight is reserved for a member of our team who embodies our core values of integrity, excellence, and leadership in everything they do.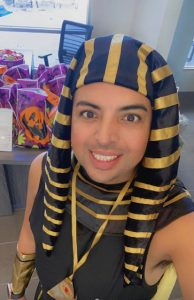 If you met 3800 on Portland's Eli Woodard in person, you'd see how much he lights up a room. The spotlight follows him wherever he goes!
Eli is not only tons of fun, but his love for his residents shines through in everything he does. Eli started at 3800 in April of 2020, and his ability to adapt and accommodate our residents and team during uncertain times has not gone unnoticed. He's great at signing leases but even better at getting people to fall in love with his community because he loves it that much too! He was a key player in boosting 3800's occupancy and has been instrumental in the community's success!
In his free time, he enjoys exploring Downtown Dallas and visiting restaurants and museums with his husband. He loves art and enjoys decorating and taking photos. With his impressive collection of iconic selfies and 5-star reviews, it makes sense why he earned the "Selfie Star" award at the 2020 Legacy Awards. Eli really is a star, and we are so glad he's a member of Team Legacy.
Q: How long have you worked at LRG?
A: Since April 2020. 3800 on Portland is a bigger community than I was used to, but I love the challenge and I love to stay busy. I have learned a lot about running the office in my time here.
Q: What is your favorite thing about your job?
A: Marketing! I love that because of our creative efforts and word of mouth, we now have a consistent traffic flow of people looking for new homes. I also love how diverse the community is. People from all over the world live here!
Q: What about your job brings you the most joy?
A: Taking care of residents and making sure their work orders are completed as quickly as possible.
Q: What's a challenge you've had to overcome?
A: I really struggled with collections when he worked at a dealership, my managers told me I wasn't going to make it. When I heard that, it gave me the motivation to fight harder. Within a month, I had the highest collection rates in the company and I stayed at the top until I left!
When I first started with Legacy, it was right at the beginning of COVID. I had to get creative and try new things to attract people to the community. Now, thanks to a killer partnership with my manager, occupancy is higher than it has ever been at our community! I just like to do my job. I'm the kind of person who likes to do the best job I can no matter what I'm doing.
Q: What is one thing you wish other people knew about you (or your community)?
A: I LOVE my nephews and niece. I treat them like they are my own kids! In my free time, I love going to church, singing, and country dancing!
If I'm having a bad day, stuffed crust Hawaiian pizza with jalapenos makes it all better.
Q: What's your favorite color?
A: Hale navy
Q: What's your favorite snack to bring to work?
A: Rice Krispies treats
Q: What is your favorite memory from work?
A: Resident events are my favorite! There are lots of good memories from those. One of my favorite days was the day a resident brought me my favorite pizza after the ice storm to say thank you for working hard to help her.
Q: What's a lesson you've learned working in the multifamily industry?
A: During the ice storm, I learned that obstacles are going to come my way, but they make me stronger and teach me how to communicate better with my residents and serve them well. (Editor's note:  Eli used to live at the community where he worked, and did absolutely everything he could to try to find heaters and water for residents with issues at their building. We're so proud of how selflessly he served our residents during this time!)
Q: What makes you a great leasing professional?
A: Positive attitude and charisma. The first impression with new residents is crucial. I always have a big smile. It's important to me that I remember names and details about prospects so I can find them the perfect home.
Q: How do you define our core values: integrity, excellence, and leadership? How do you apply them in your work?
Leadership- I don't wait for my manager to tell me what I need to do next but takes initiative to find things to do. I jump in to help with anything and everything even if it's not in my job description.
Integrity- I always present an honest picture when I give tours so future residents know what they're getting.
Excellence- I strive to keep occupancy up and always try to improve on how I handle resident issues. I am quick to go to my manager when an unfamiliar situation comes up so we can learn how to handle it better next time.
Q: What's a fun fact that you want your residents to know?
A: I like hanging out in downtown Dallas and exploring museums and new restaurants with my husband. I enjoy art that opens his mind to new things, and I love anything to do with water and the beach. Decorating and photography are also passions of mine!